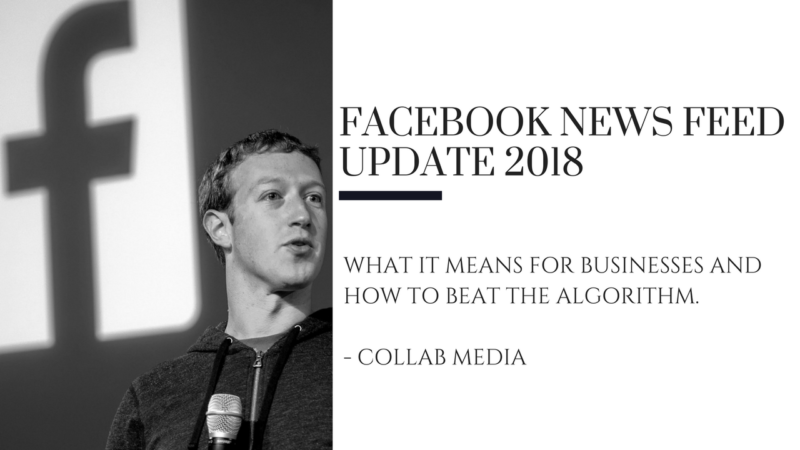 On 11th January, Facebook and more specifically Mark Zuckerberg released a statement announcing their plans for 2018.
Over the next few months, Facebook will be making updates to ranking so people have more opportunities to interact with the people they care about.
Facebook's mission for users to have a deeper, more meaningful interactions with people they care about. The facebook feed uses a process called ranking, this determines what areas of your feed and in what order, based on what they think you'd be interested from the algorithm information they've collected.
A like, comment or share is one sign that a post matters to a user, this mean the post you are likely to interest with generally gets a higher ranking score.
Mark Zuckerberg states that 'You'll see less public content like posts from businesses, brands, and media. And the public content you see more will be held to the same standard — it should encourage meaningful interactions between people.'
The new Facebook newsfeed update means that person to person interaction will be more valuable than person to page. Connections to people in your network will get a bigger boost, meaning you'll be seeing their content more often.
Over time Facebook believes that people will see more posts from people they are connected to and less content from publishers (pages). They also believe that people overall people will spend less time on facebook but their goal is that the time people do spend on the platform will be improved.
So what does this means for Facebook Business Pages / Publishers?
Pages may see their reach, video watch time and referral traffic decrease. The impact will vary from Page to Page, driven by factors including the type of content they produce and how people interact with it. Pages making posts that people generally don't react to or comment on could see the biggest decreases in distribution. Pages whose posts prompt conversations between friends will see less of an effect.
How to avoid a decrease in reach?
Page posts that generate conversation between people will show higher in News Feed. For example, live videos often lead to discussion among viewers on Facebook – in fact, live videos on average get six times as many interactions as regular videos. Local businesses connect with their communities by posting relevant updates and creating events.

How to beat the Facebook Algorithm?
– Use compelling headlines
– Avoid overly promotional content
– Try new things (live video)
– Long video content, directly uploaded to facebook
– Use facebooks publishing tools (audience optimisation)
– Authentic communication – genuine stories)
– Link posts
– Refer to trending topics (timely posts are ranked better)
complete your user profile.
What the Facebook algorithm dislikes:
– Clickbait
– Like baiting
– Post that includes spamming links
– Repeated posts
– Text only updates
– Frequently hidden posts
– Posts that ask for comments, likes or shares
– Overly promoted content
Facebook considers baiting sort of content to be less meaningful and they are going to demote these sorts of posts in the News Feed. Examples of engagement baiting are:
– Vote baiting
– React baiting
– Share baiting
– Tag baiting
– Comment baiting
Conclusion
Publishers and brands are the losers.
Don't panic & stop using your Facebook page, keep an eye on your Facebook engagement over the next few months to see if you notice a difference in your reach if so you need to rethink and re-evaluate your social media strategy. – Get in touch with Collab Media and we can assist with this.
Don't fully invest all your social media time on Facebook, remember there are other social media platforms out there, cross-promote and use a variety of marketing tools for each one.